The best promotional bag ever- Our A01 Economy Tote
When we were sorting out our products category wise, all we had in mind was, the best and the most useful be listed under our promotional/advertising section. You may ask why. It is because the promotional products that go out, not only represent your brand but us too.
The bags that are given away at trade shows, conferences, seminars, and giveaways, travel far and wide, get recognition and usability, it's durability saves the use of hundreds of single-use plastic bags, and most importantly it carries your brand logo, design or artwork.
For a bag that carries your brand logo, it ought to be the best. And so we picked out our best for you. Our A01 Economy Tote. The Economy tote is made in a classic tote bag design,  the perfect option, if you are looking for custom printed promotional products and the most basic of its versions are available in the natural color of cotton.
Have a look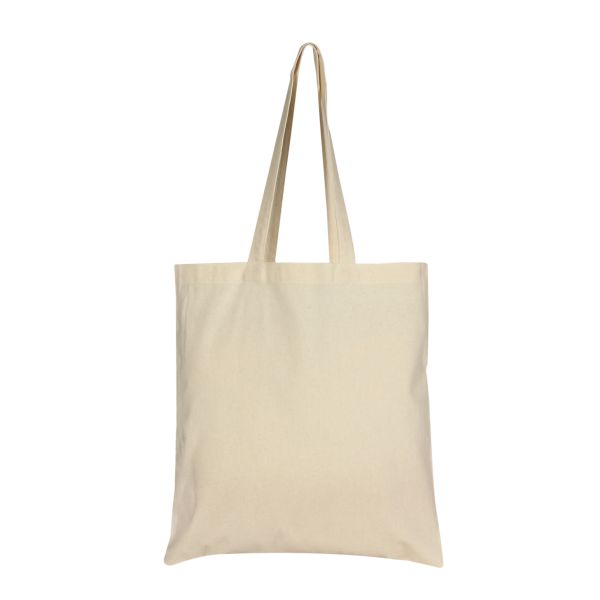 A01 Economy tote
Some of the custom printed bags we made for our clients
Why is it the best promotional product?
We give you not one but 5 reasons why it is our best promotional product.
It is sturdy and durable
Made out of a 4.5 oz lightweight natural cotton, this economy tote is sturdy and how. At a trade show giveaway, this bag can be really useful for people to carry around stationary, brochures, pamphlets and other promotional materials they receive. The bag is sturdy enough to carry up to 10 kg of weight making it perfect for trade show giveaways.
It is easy to carry and reusable
The classic tote bag design and the convenient shoulder handles of this bag make it easy to carry. It is so portable, one can use it while travelling, grocery shopping, or simply fold it and keep it with them, just in case they need it later. Unlike a single-use plastic bag that is thrown after a single use, this custom printed promotional bag stays with your customers for a longer time, acting as a walking advertisement for your brand
It has a large surface area
This bag has a standard design and is 15" wide and 16" long. This means it has a large surface area for custom prints and logo placement. You can get printed text or letters with appliques, or embroidery for a plush personalized gift.
It is eco-friendly and ethically produced
Although all our cotton bags are eco-friendly, this economy tote is greener than green. For starters, it is made of natural cotton canvas that is biodegradable unlike its plastic and non-woven counterparts. Secondly, unlike other cotton canvas bag variants that are dyed, this one is raw natural cotton. Means absolutely no chemicals involved in dyeing or other processes. More and more brands are turning towards ethically produced and eco-friendly alternatives. This economy bag is made in SEDEX audited facilities and our manufacturing units meet 11 of the 17 SDGs (you can check it out here) continuously striving to make a noteworthy impact on the community and our planet large. This economy tote is a symbol of sustainability and environmental consciousness.
We have always spoilt our customers with choices and our A01 Economy tote has variations too. If you want something fancier than the Economy tote, you can try the same style in different materials like denim, dyed cotton, jute and spun bonded polypropylene.
No matter your promotional needs, we have you covered at Norquest brands Pvt Ltd. Our custom printed promotional products and personalized gifts are the perfect solution to all your advertising needs. Drop us a line to know more.